Savaria V-1504 Vertical Platform Lift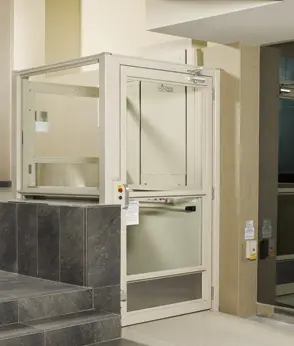 Can be built to suit virtually any home.
The Savaria V-1504 lift is built to carry a wheelchair and passenger safely up and down one or more levels. Suitable for installations in public and commercial buildings, as well as private homes, this Savaria lift features an extremely versatile design that can be configured and customized to suit virtually any project requirements and aesthetic needs. From the rugged outdoors, to the most luxurious office tower lobbies, the Savaria V-1504 lift is ready to serve with its reliable performance, ease of use and range of finish options.
Driven by our reliable hydraulic system the lift travels up and down a rail system enclosed in the lift tower so no machine room is needed.
Savaria Multilift Vertical Platform Lift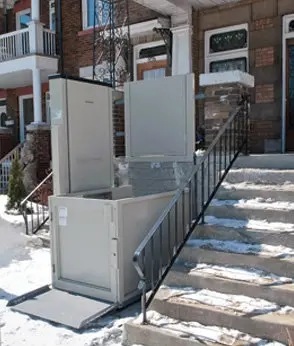 Strong and Reliable Operation.
The Multilift is a vertical platform lift, designed for low-rise travel indoors or out. With its durable design, the Multilift is popular for accessing decks and porches even in demanding climates.
At the heart of the Multilift is the reliable operation of the ACME screw drive which delivers precision movement and performance you can count on day after day. Handling up to 750 lb this lift can carry a passenger in a wheelchair with ease. An array of safety features ensures safe operation including sensors to stop the lift if it senses an obstruction.
There are several models of the Multilift available including a mobile version and an enclosed unit. This lift is available for commercial applications in the U.S. and home use anywhere. The Multilift is an easy way to add access for low-rise travel.
Bruno Vertical Platform Lift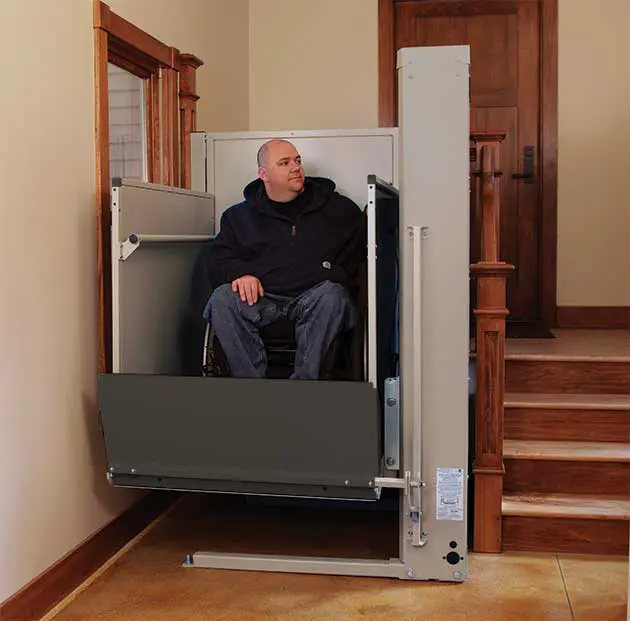 Boost home access for mobility devices.
Sometimes called a porch lift, a Bruno vertical platform lift gives people in scooters and wheelchairs the ability to easily enter/exit their home. Suitable for indoor or outdoor use, Bruno vertical platform lifts also provide access up to 14 feet for decks and basements.
Residential VPL Features
Automatic self-lowering folding ramp
Quiet, smooth ride
Weather-resistant finish and controls
Emergency stop switch on platform
Safety sensors in platform bottom stop unit if obstruction sensed
Affordable AC power in 4- and 6-ft units
Reliable DC battery power, available in all heights and standard above 10-ft, ensures operation in power outage
Delivery Available for Most of our Mobility Products! Inquire Below!
We Have Hundreds of Mobility Products to Meet your Needs! Inquire Below!